Wimbledon: Carlos Alcaraz defeats Novak Djokovic in five-set epic to win maiden title at All England Club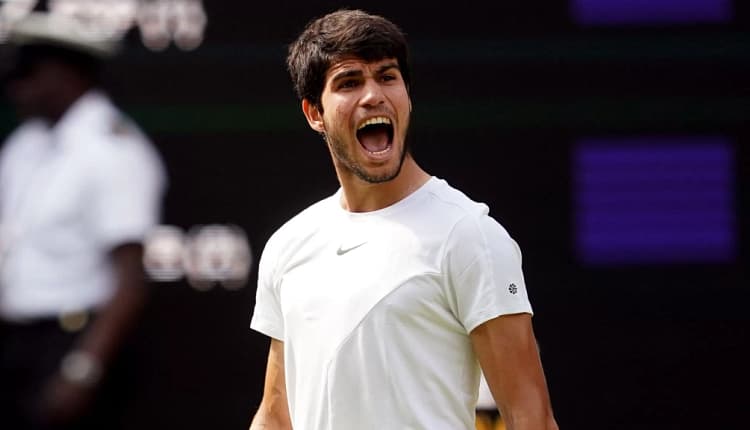 Carlos Alcaraz marked a significant shift in men's tennis by dethroning Novak Djokovic at Wimbledon. In a thrilling five-set match, Alcaraz emerged victorious after four hours and 42 minutes, securing his first-ever title at the All England Club. Despite Djokovic initially dominating the contest and winning the opening set 6-1, the 20-year-old Spaniard displayed resilience and ultimately triumphed against his 36-year-old opponent. Alcaraz's moment of glory arrived when Djokovic's final forehand landed in the net, causing the young tennis sensation to collapse on the court.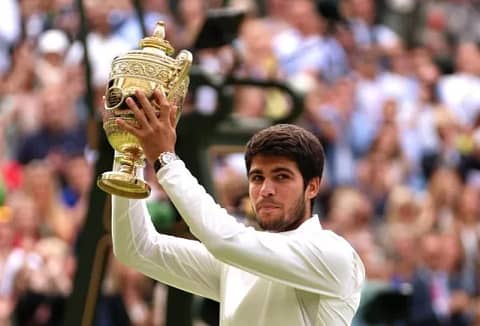 The two players then shared a heartfelt embrace. Djokovic, aiming for his eighth Wimbledon title and fifth consecutive win, exhibited superior tactical awareness in the early stages, committing only two unforced errors. Alcaraz struggled to handle Djokovic's expertise but found his footing at the start of the second set, breaking Djokovic's serve and taking a 2-0 lead.
However, Djokovic quickly retaliated, resulting in a high-intensity set that culminated in a tie-break. Despite Djokovic's previous success in tie-breaks at Grand Slams, Alcaraz disrupted his winning streak by clinching the tie-break 8-6 with an exceptional return of serve, leveling the match. Alcaraz continued his momentum by breaking Djokovic's serve at the beginning of the third set, leading to a dispute over a let call between Djokovic and umpire Fergus Murphy.
As the match progressed, Alcaraz secured two more breaks, ultimately winning the set 6-1 after an intense 26-minute game. Djokovic took an extended bathroom break during the changeover, receiving a less-than-warm reception from the crowd upon his return. The break seemed to revitalize Djokovic, as he managed to create two break points at 2-2 in the fourth set, converting the second when Alcaraz's drop shot hit the net.
Djokovic gained traction and won the fourth set, leading the match to a critical fifth set showdown. However, he missed an opportunity to secure a break point for a 2-0 advantage in the fifth set by hitting a shot that seemed like a guaranteed winner into the net. This mistake had consequences, as Alcaraz then took advantage in the following game, breaking Djokovic's serve. This prompted Djokovic to vent his frustration by smashing his racket against the wooden net post.