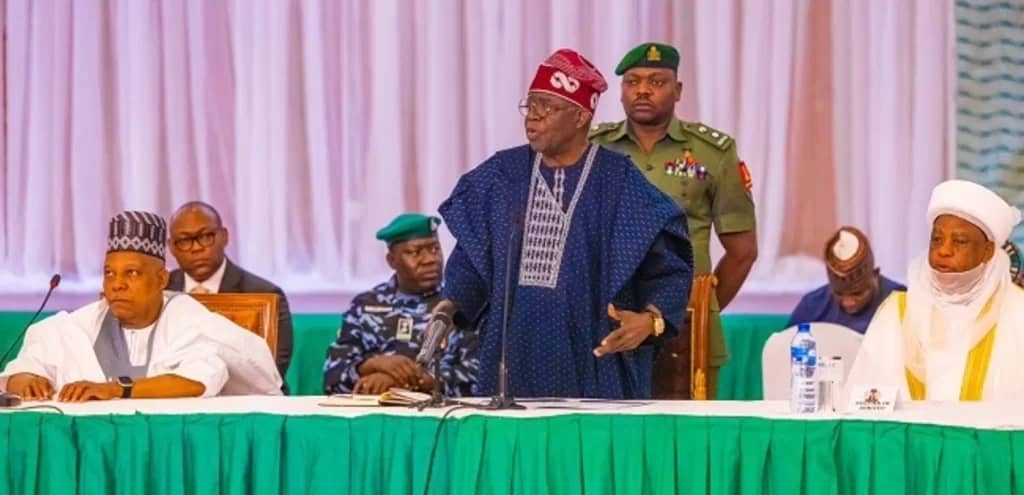 President Bola Tinubu has justified the removal of energy payment, saying that the state may remain feeding traffickers and acting as Father Christmas to neighboring nations.

According to a statement made public by the State House's Director of Information, Abiodune Oladunjoye, the President said this today, June 9, during an interactive meeting with the Royal Fathers held at the Aso Villa under the sponsorship of the National Council of Traditional Rulers of Nigeria( NCTRN ).

They were informed by the President of the decision to abolish the gas subsidy, enhance security, boost employment, protect the environment, and oversee the upcoming selection of 10th National Assembly's top officers.
I am glad that you are paying attention to what I have been doing. You have paid attention to the payment treatment. Even though they claim that not every day of the year is Christmas, why should we in good conscience supply smugglers and be Father Christmas to neighboring nations? The rhinoceros that was going to take Nigeria to its knees is the payment. A nation that may give pay and we say we have the potential to motivate ourselves. I think we did the right thing," he said.

Different speakers at the conference expressed support for the subsidy removal, with the President appealing to the conventional leaders to carry Nigerians to possess belief and that the pump prices of fuel will finally come down.

While acknowledging issues about the need for vital infrastructure in different parts of the country, President Tinubu pledged that any barrier in the way of the development of the African people may be removed by his authorities.
Where is the money going to come from if we don't safeguard our resources and our borders, ask the laments about the investment jobs? Without funds projects, development is impossible, he continued.