Singer Davido announces the disbursement of N237m to 424 orphanages across Nigeria through his foundation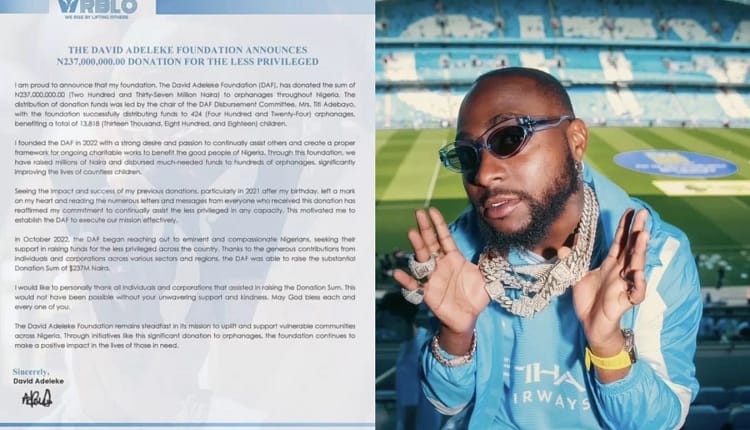 Nigerian Afrobeat singer Davido, also known as David Adeleke, has made a generous donation of ₦237 million to 424 orphanages across the country through his David Adeleke Foundation (DAF).
The announcement was made by the 'Fem' singer in a statement he personally signed and shared on his Instagram account. The initiative benefited a total of 13,818 children in orphanage homes. Davido expressed his strong desire to continually assist others, stating that the success of his previous donations inspired him to help the less privileged in his own capacity.
He also extended his gratitude to all those who contributed to the initiative, acknowledging their support as instrumental to the achievements of DAF. Davido captioned the statement with words of gratitude, stating that he has always aimed to use his platform to serve others and expressed his appreciation for everyone's generosity. He emphasized that this tradition of donating to orphanages in Nigeria, which began a few years ago around his birthday, will continue next year. Davido concluded with the words "We go again next year."
The David Adeleke Foundation (DAF) recently made a significant contribution to orphanages across Nigeria. We are delighted to announce that a total sum of N237,000,000.00 (Two Hundred and Thirty-Seven Million Naira) was donated. The distribution of these funds was efficiently carried out by Mr. Titi Adebayo, who serves as the chair of the DAF Disbursement Committee. In total, 424 (Four Hundred and Twenty-Four) orphanages received financial support, positively impacting the lives of 13,818 (Thirteen Thousand, Eight Hundred, and Eighteen) children.