JitekMedia looks at the top happenings making headlines on the front pages of Nigeria's national newspapers today Sunday 18th September 2022.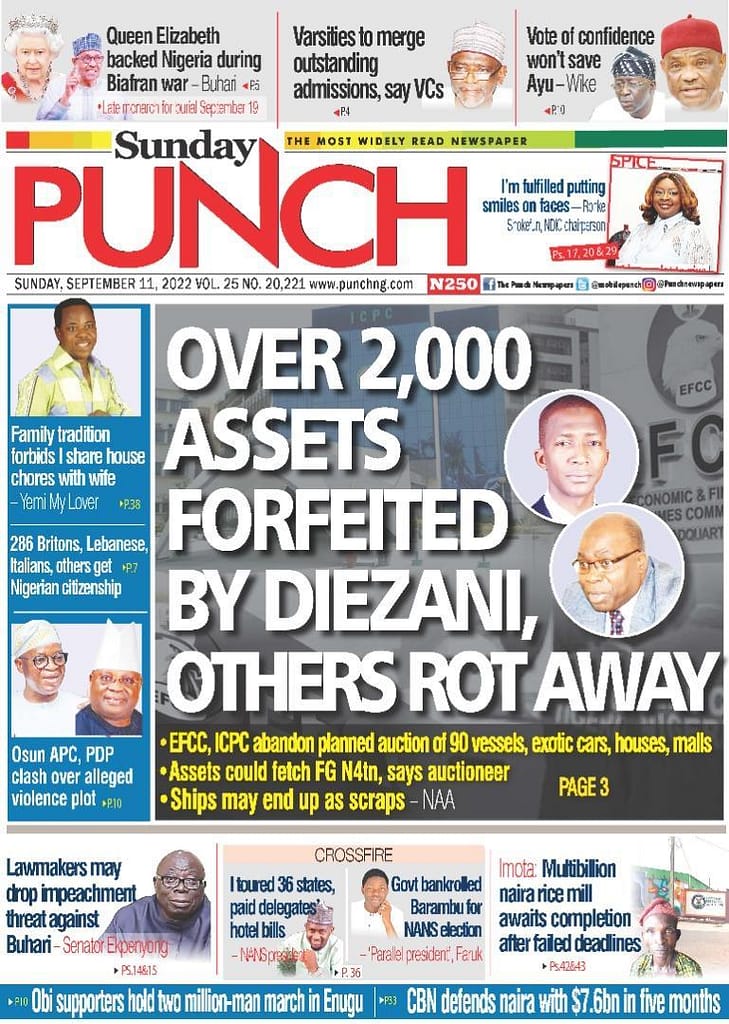 The PUNCH: As political parties and candidates prepare for the commencement of campaigns, the police have warned politicians about hate speech and cyberbullying. The police threatened to prosecute violators in accordance with relevant laws, adding that they could be charged under the Cybercrime [Prohibition, Prevention, etc] Act, Electoral Act, or even Terrorism [Prevention] Act, depending on the content of the speeches. The Guardian: The Senate would this week meet to review the six-week ultimatum it gave President Muhammadu Buhari to end insecurity or be impeached. The upper legislative chamber billed to resume on Tuesday from the end of session recess, will sit as a whole to consider the security situation in the country since it gave the ultimatum and come up with further decisions.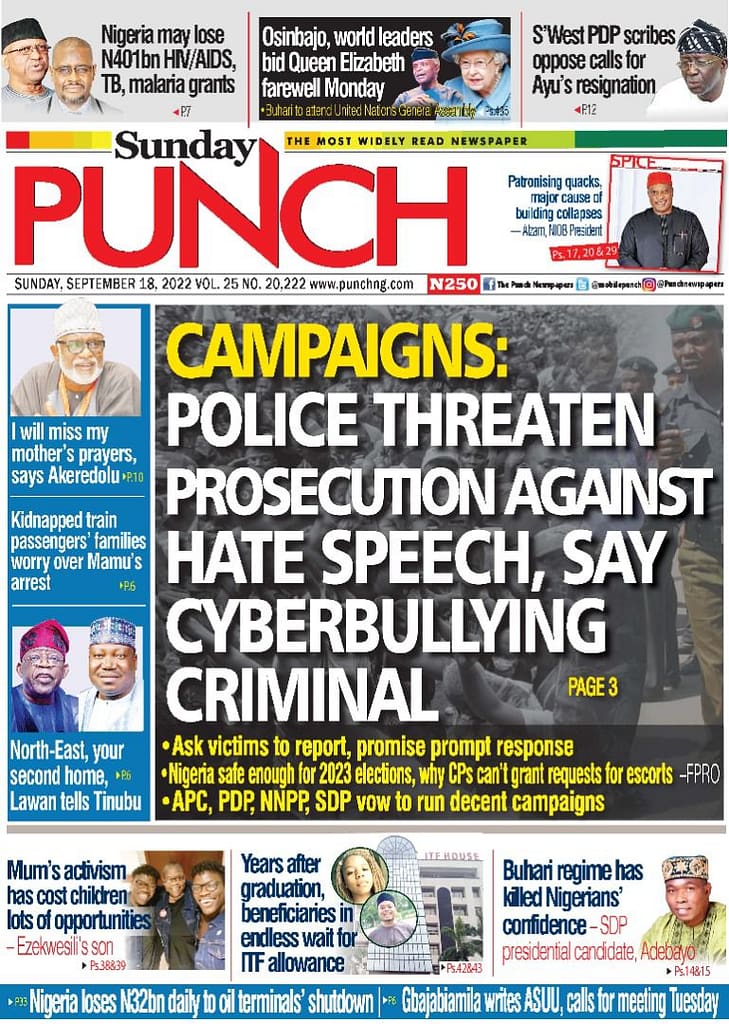 This Day: As part of the renewed efforts to ensure a united party ahead of the September 28, 2022 date for the commencement of campaigns, the Chairman of the Presidential Campaign Organisation of the Peoples Democratic Party (PDP) and Akwa Ibom State governor, Mr. Udom Emmanuel, as well as the Director General of the organization and Governor of Sokoto State, Mr. Aminu Tambuwalm, have moved to resolve the crisis in the party.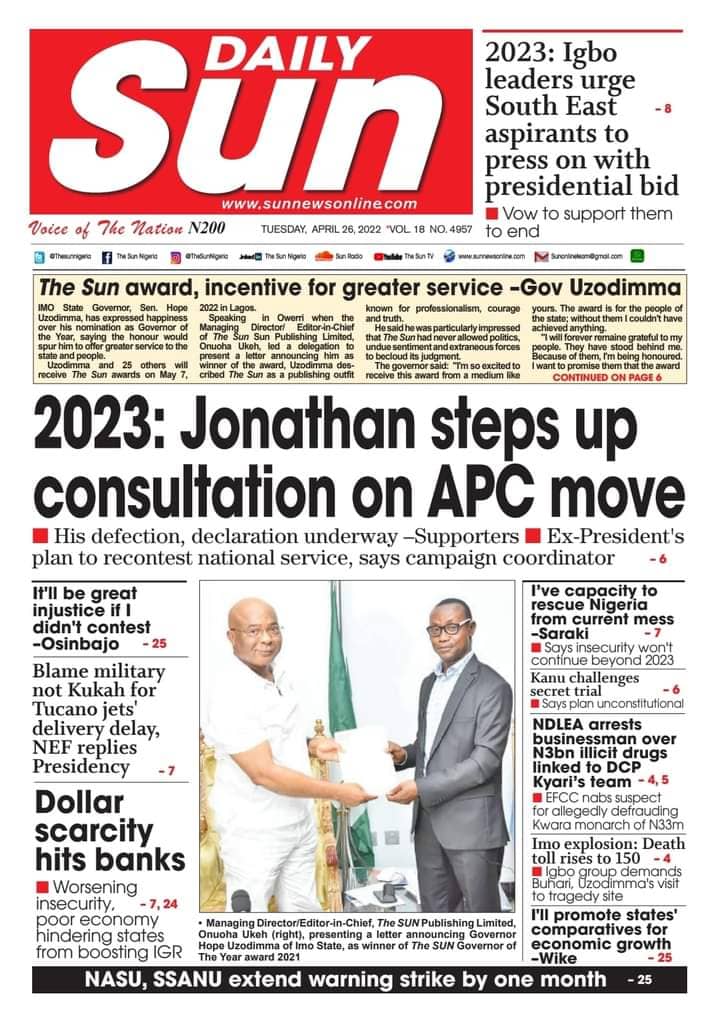 The Nation: The peace talks between the Peoples Democratic Party's (PDP's) presidential candidate, Alhaji Atiku Abubakar, and Rivers State Governor Nyesom Wike have finally broken down, multiple party sources said yesterday. The collapse of the reconciliation moves was sealed with the appointment of Governor Aminu Waziri Tambuwal as the Director General of the PDP Presidential Campaign Council.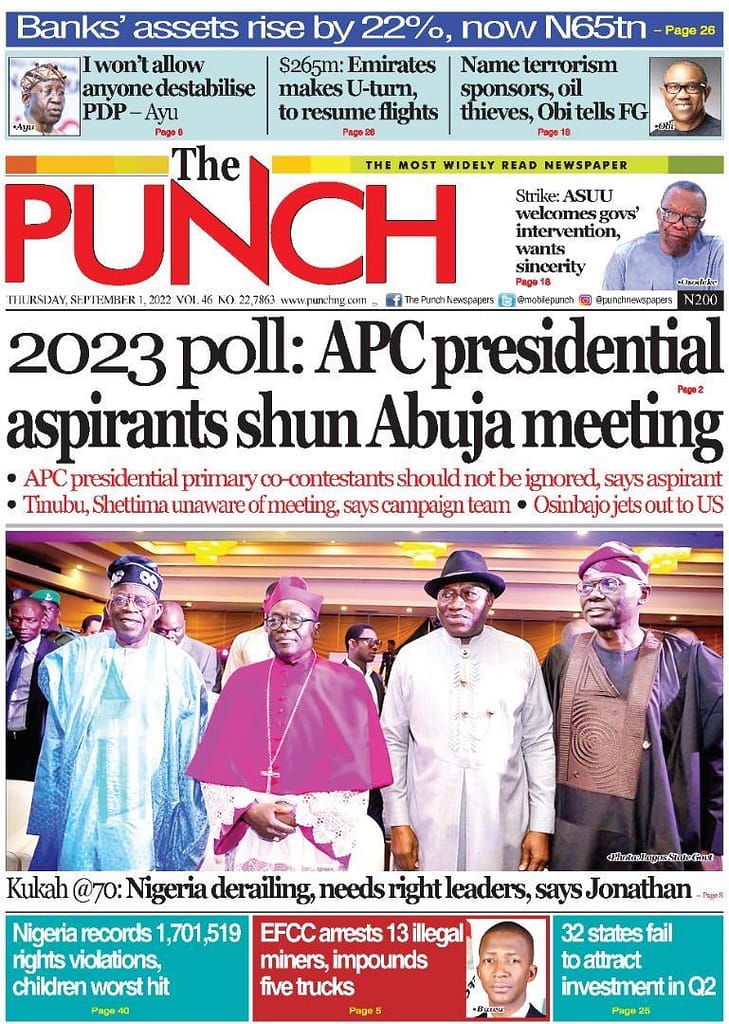 Saturday Sun: One of Alhaji Atiku Abubakar's foremost loyalists and founder of the Atiku Deservationm, Dr. Sani Adamu, has faulted the treatment given to Governor Nyesom Wike by the People's Democratic Party (PDP), saying that he is a symbol of party loyalty and, therefore, must be respected in order to strengthen the bond of unity in the party,. With the 2023 general elections fast approaching, the straight-talking politician said that the PDP would be heading for a destined failure at the polls if Wike is not brought back on board.